E-Discovery and Document Review
What is electronic discovery?
The electronic component of locating, gathering, and producing electronically stored information (ESI) in response to a request for production in a legal proceeding or investigation is known as electronic discovery (sometimes spelled e-discovery, e-discovery, e-Discovery, or e-Discovery). Emails, papers, presentations, databases, voicemails, audio and video files, social media, and websites are just a few examples of electronic storage media (ESI).
Procedure of e-discovery
The legal e-discovery process is broken down into six stages by the Electronic Discovery Reference Model (EDRM):
Identification
Preservation
Collection
Processing
Review
Collection, preservation, and identification: Usually, the legal obligation to preserve potentially important documents is where the e-discovery process begins. Attorneys establish the parameters of e-discovery in the event of a foreseen legal action and locate and retain the pertinent ESI to prevent its modification or deletion.
Processing, evaluation, and creation: For use in court, the ESI is gathered, examined, and prepared. The analysis is essential for cost savings since it enables the removal of pointless data before processing.
It is crucial to have e-discovery actions traceable and documented throughout all phases.
Because of the enormous amount of electronic data being created and kept, e-discovery procedures and technology are frequently complicated. Electronic documents are also more dynamic than physical evidence and frequently include metadata like time-date stamps, author and receiver details, and file attributes at
To prevent allegations of spoliation or tampering with evidence later on in the litigation, it is necessary to preserve the original content and metadata for electronically stored material.
Potentially relevant documents (including both electronic and hard-copy materials) are placed under a legal hold after data is identified by the parties on both sides of an issue, which prevents its modification, deletion, erasure, or other destruction. Data that may be important is gathered, extracted, indexed, and then stored in a database. Data is now evaluated to remove or separate the irrelevant documents and emails.
Reviewers can then access the data, which is subsequently hosted in a secure location, and code the documents according to how pertinent they are to the legal issue (contract attorneys and paralegals are often used for this phase of the document review).
When relevant documents are transformed into a static format for production, such as TIFF or PDF, it is occasionally possible to redact privileged and irrelevant information. Predictive coding, other analytic software, and computer-assisted review, all of which are used for e-discovery, reduce the number of documents that need to be reviewed by attorneys and let the legal team prioritise the documents that are reviewed. The reduction in the number of documents cuts hours and thus costs. The ultimate goal of e-discovery is to produce a core volume of evidence for litigation in a defensible manner.
What is document review?
Document review determines which papers are privileged and should be kept secret from the opposing counsel. It requires having to repeat and edit the work repeatedly as a review is an ongoing, learning process. The team will identify factual concerns in a case through this procedure and create legal strategies to pursue based on data found in a collection of documents.
What is an e-discovery document review?
Finding relevant documentation to present and protected documents to conceal from competing counsel are both parts of the document review process. Revision is the iterative process of revisiting or refining.
Based on the information obtained in the documents, the legal team then identifies genuine difficulties in the case and prepares strategies for legal action. A forensic team must, as often as possible, use precise collecting filters and culling techniques to minimise the amount of data that can be evaluated before finishing a human examination. We make this distinction between pertinent and unimportant material.
The goal of document review
The goal of document review is to determine whether material is subject to discovery. Regulatory investigations, subpoenas and third-party demands, internal investigations, and due diligence evaluations for mergers and acquisitions are just a few examples of the more general uses for document inspection.
The legal team can develop legal theories, identify important witnesses to be deposed or summoned at trial, and begin to better comprehend the factual issues in a case based on the reading and analysis of the papers in the collection.
The documents that the legal team finally reviews typically only make up a small portion of the initial collection thanks to the culling, keyword search, first past review, and other measures to reduce the size of the dataset. A rising variety of technologies that automate the review process are flooding the market to further cut costs.
A wide variety of documentation may be requested in response to a request from an adversary to produce pertinent records. They have the right to request things like financial information, medical data, insurance policies, receipts, internal product evaluations, testing, and investigations. The legal team needs to carefully examine, sort, and review each of these written documents.
Purpose of E-discovery
At IIPRD, e-Discovery services include case management, collection, and preservation of electronically stored information. Our team of highly experienced, electronic data acquisition and data retention experts, is dedicated to your success, offering quality e-Discovery Processing and support services benefiting the clients and allowing them to hold a competitive advantage. Our e-Discovery experts will assess your electronic data or document imaging needs to develop a cost-effective, secure document management solution efficiently. Some of the salient features of the service are:
Managing, tracking, and collecting electronically stored data (ESD).
Collecting electronically stored data in a timely and defensible manner.
Requiring operating systems and network infrastructure to collect and manage ESI.
Adhering to and supporting the implementation of established best practice processes for handling ESI.
Creating required documentation and indices to report on a collection of ESI from various data sources.
Performing quality control according to defined processes from data receipt to delivery.
Contributing to continuous process improvement by actively giving feedback.
In the United States, e-discovery is widely used in government investigations, various civil litigation contexts, or FOIA requests. Since 2006, the Federal Rules of Civil Procedure (FRCP) and several state statutes have applied to e-discovery petitions in the US. The FRCP was modified on December 1st, 2015, mostly to assist in better managing e-discovery.
In other legislation such as the UK's Part 31 of the Civil Procedure Rules, Australia's Freedom of Information Act 1982, Canada's Access to Information Act, Denmark's Act on the Openness of Public Documents, Finland's Act on the Openness of Public Documents, and France, Germany, and other EU nations all have general freedom of information or access to information laws. Other jurisdictions around the world also have e-discovery regulations.
Our Approach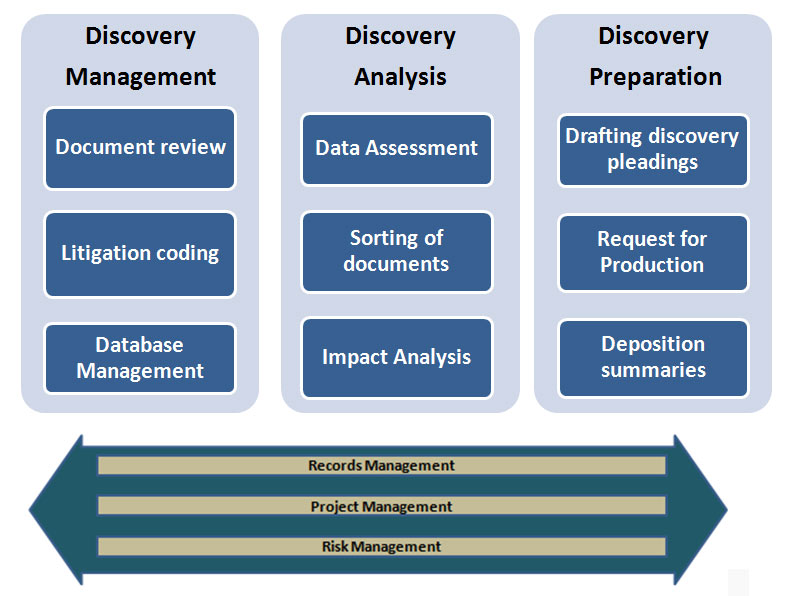 Operating model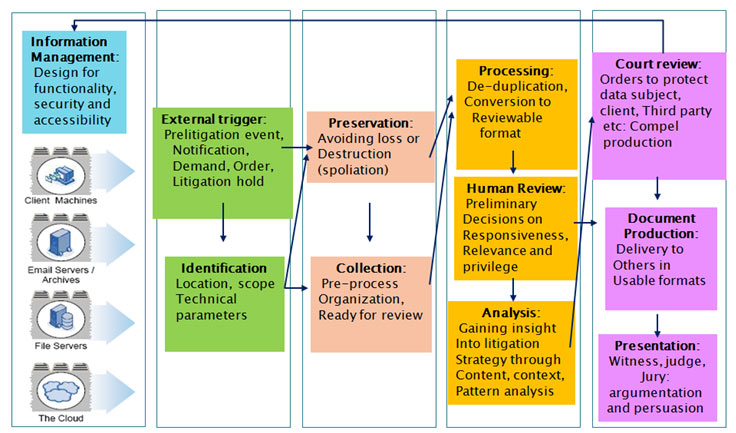 We, at IIPRD, have gathered a team of professionals with significant procedural and technical expertise and advocacy skills necessary for this domain. The entire process, right from the preliminary stage of discovery management is handled by our team. The three-pronged approach of e-discovery and document review particularly, discovery management, discovery analysis and discovery preparation are entailed within our process.
Our approach to document review and e-discovery is streamlined and tailored to suit the needs of our clients whilst facilitating a smooth process. Comprehensive management of data and documents is our standard and we aim to aid our clients through this process with ease.
Our Services
We, at IIPRD, provide assistance to our clients in the process of e-discovery and document review in the legal domain. All the aspects of e-discovery are covered by our team of professionals with database management and litigation coding to impact analysis.
We aim and endeavour to provide our clients a seamless and smooth experience with reference to their data and documents.