IP Licensing services
What Is IP Licensing? / What Is Patent Licensing?
One can only use someone else's IP if the IP Owner has granted them a license. Licensing could be the most lucrative way to make a living today. At its basics, licensing is the selling of Intellectual Property rights to a person or business that wishes to produce it for a profit. Intellectual Property could be a Patent, Trade Mark, Copyright, or Trade Secret. A person may be interested in beginning a new business, extending or developing an existing business, or enhancing the company's reputation in the market in today's extremely competitive business environment. Licensing of Intellectual Property Rights (IPR) can frequently be successful in reaching such commercial objectives.
Having been established in 2007, IIPRD is among the first set of IP Asset Management and Patent Support Firms in India to have a core and comprehensive focus on Patent/IP Licensing, Commercialisation, and Monetization. IIPRD has a strong team of Patent Attorneys, Valuation Experts and Market Research Professionals who together assist Global Clients in Out-Licensing, In-Licensing and IP Sale/Buy Transactions. IIPRD has a structured process to reach out to potential licensees to gauge their interest in a technology/patent portfolio, prepare term sheets, and draft comprehensive licensing agreement so as to implement the entire commercialization lifecycle.
What Is An IP Licensing Agreement?
A licencing agreement is a partnership agreement between the holder of intellectual property rights (the licensor) and the party who has been granted permission to use those rights (the licensee) in return for a predetermined payment (a royalty or fee). There are three major types of Licencing Agreements:
Commercial Licencing Agreement – When the author/owner of the copyright in work does not want to give up ownership, a licence in copyright is granted to a licensee. Such a request seeks to exploit the copyrighted work in whole or in part in exchange for a one-time payment of royalties or periodic fees. In such cases, a licence is given to a licensee who then commercially exploits the works in exchange for payment of royalties to the licensor. The royalty amount could be determined by the Licensee's earnings and paid in any agreed-upon instalments. Licenses may be awarded for the entire jurisdiction or may be territorial in nature. The law permits a right to a single licensee or a group of licensees.
Technology Licencing Agreement – The agreed-upon terms and circumstances under which the licensor permits the licensee to utilise the technology make up a technology licencing agreement.
Purchasing such rights through a technology licencing agreement might be beneficial if a corporate entity is interested in using the patent or utility model rights owned by another company to manufacture new products or services or to improve the quality of existing ones. Additionally, if a company wants to expand the market for a good or service for which they have patent or utility model rights, allowing any other company to use the good or service with the aid of a technology licencing agreement may be the best course of action.
A patent licensing agreement is a legal agreement between the owner of a patent and another party who wishes to use that patent. The agreement allows the licensee to use the patent in exchange for payment of a licensing fee or other consideration, as well as adherence to certain terms and conditions set forth in the agreement.
The terms of a patent licensing agreement typically include details such as the scope of the license, the payment structure, the duration of the agreement, and any restrictions on the use of the patented technology. The agreement may also include provisions related to confidentiality, intellectual property rights, and dispute resolution.
Patent licensing agreements are common in many industries, including technology, pharmaceuticals, and manufacturing. They can be a valuable tool for patent owners, as they provide a way to generate revenue from their intellectual property without having to manufacture or sell products themselves. For licensees, they can provide access to valuable technology that can be used to develop new products and services.
Trademark Licencing and Franchising Agreement – By enabling other companies to produce goods and services under the trademark owner's brand, companies with famous brands can increase the reach of such brands.
Other businesses might be interested in hiring manufacturers and distributors who brand products with the trademark holder's trademark before marketing and distributing them.
A trademark identifies the source of a product or service and makes an implicit reference to its quality and brand name, helping to distinguish it from other businesses. In order to maintain quality standards and prevent customer deception, it is strongly recommended for the owner of a trademark licencing agreement to keep a tight relationship with the licensee.
Through a trademark franchising agreement, a business or brand entity's owner who has already experienced some success in line with the trademark may work with another company (the franchisee), which will contribute its expertise or financial resources to offer the goods or services directly to consumers.
Our Approach – IPR Licensing Services
IIPRD is among the leading IP Firms based in the US and India to have a comprehensive focus on Licensing and Monetization Services that range from supporting customers and law firms in identifying infringements, generate patent to product mappings, drafting claim charts/evidence of use opinions, and assisting in the complete life-cycle of Patent Licensing by reaching out to potential licensees, gauging their interest, sharing confidential prototype/proof-of-concept information based on NDA/CDA, and arriving at a mutually convenient term sheet/licensing agreement. IIPRD supports throughout the complete licensing process of varied IP Assets including Trade Marks and Copyrights, along with supporting clients on valuation, audit, and other monetization mandates. Because of IIPRD's strong and acute focus on IP Commercialization and Licensing Issues, the firm has been a part of numerous Out-Licensing deals, and even today undertakes over 20-30 complete out-licensing mandates a year. IIPRD provides extensive services including conducting In-Licensing & Out-Licensing exercises, which mainly comprise of undertaking detailed technical and commercial evaluation of the technology vis-a-vis the market potential of the technology, competing products, pricing strategies, potential licensees, along with evaluating strength of patent protection, coverage and enforceability of the concerned patent among other commercial and technical issues that can help present a Best-Fit Strategy to suit the client's needs.
IIPRD, as mentioned above, has an active mandate of preparing a strong Patent/Technology value proposition presentation, and then reach out to key stakeholders in different potential entities to evaluate their interest, based on which further confidential information is thereafter share over a NDA/CDA to firm their interest.
IIPRD provides an immediate and active marketplace that benefits both patent owners and interested licensees by representing clients for below exemplary mandates:
Identify IP/Patent Portfolios available for out-licensing/sale
Evaluating licensing potential of a Patent/Portfolio
Undertake Market Research to identify evidence of use/draft claim charts
Perform Due-Diligence on Potential Licensees
Facilitate Preparation of Marketing Collaterals for accurately representing the technology
Preparing Term Sheet/Licensing/Sale Agreement(s)
Undertake Valuation/Due-Diligence/Audit Exercises
What is Process for IP Licensing? / What is Process for Patent Licensing? / What is Process for IP Monetization? / What is Process for IP Commercialization?
At IIPRD, we typically follow a simple 5 step process for all the IP Licensing / Patent Licensing / IP Monetization / IP Commercialization mandates (which is customized depending on client requirements):
A Memorandum of Understanding (MoU) is signed with the client or IP holder after professionals at IIPRD / K&K have reviewed the Technology, Intellectual Property (IP), and Patent in context and have examined any supporting data that is available, such as Clinical Results, Prototypes, and Proof of Concept.
IIPRD's Licensing Professionals develop a thorough Technical Presentation of the Technology / IP / Patent at this point, expanding the facts and highlighting the primary technical value proposition for potential licensees to better understand the nuances and the intricacies involved in the entire process.
After preparing and finalising the technical presentation, IIPRD's professionals pitch to and contact CTOs, R&D heads, and business development heads of various potential licensees who are relevant to the technology's context (through email, social media platforms, referrals, telephonic-personal meetings), to ascertain their interest in and feedback on the proposed technology, and to follow up with them regularly over the course of three to six months.
After receiving a potential licensee's interest confirmation (based on evaluation of confidential/experimental/proof-of-concept data over a CDA), IIPRD prepares a draft term sheet based on internal evaluation of the technology. Valuation is a specific and separate billable activity entirely up to the client's decision. The potential licensee thereafter undertakes negotiation on the proposed draft term sheet with the Client/Patentee to finalise conditions of license and/or sale of the technology.
After completing the term sheet, IIPRD prepares a licensing agreement (as a separate billable exercise) to facilitate execution of those above licensing or sale agreements. At that point, IIPRD charges the mutually agreed-upon success fee based on the quantum of the transaction.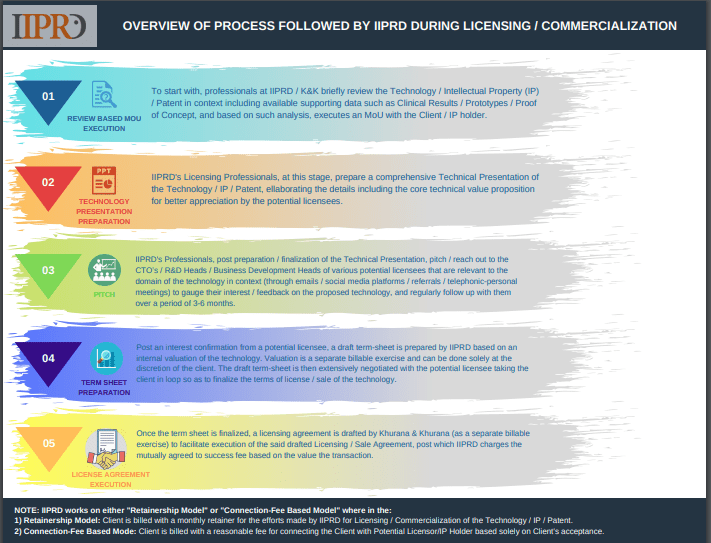 Process Followed By IIPRD During Licensing of Intellectual Property Rights (IPR)/ Commercialization