Patent Wars And Frand Licensing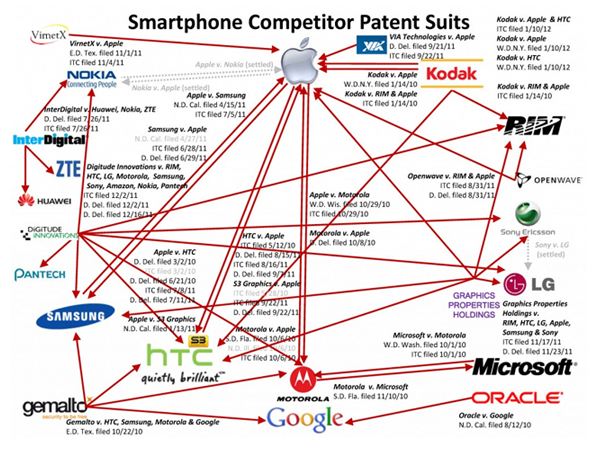 The smartphone industry nowadays is branded by a myriad of patents and its litigations in terms of infringement. Many lawsuits have been filed by Apple, HTC, Microsoft, Motorola, Nokia, and Samsung. The lawsuits span cross several courts and several jurisdictions and they often put Apple or Microsoft on one side of the war and Google's Android operating system—HTC, Motorola, and Samsung—on the other. Many of the smartphone patent litigations are fought over Standard Essential Patents Standards are central in development interoperability, and are normally set by standard-setting organizations ("SSOs" :These organizations works mainly on the use of standards in the making of goods and services that are safe, reliable and of good quality. The standards help trade, increase efficiency while lessening errors and waste. like International Organization for Standardization. These technologies are classified as SEP (standard essential patents). In the smartphone market, the essential technology includes WiFi, or 4G LTE. In contrast, non-essential patents (non-SEPs)—such as "slide-to-unlock" patents and ways of e-mail notification service—do not usually permit an industry to be held up since its not needed to use standard.
FRAND is the abbreviation for fair, reasonable and non-discriminatory. It mostly results from antitrust cases where a holder of intellectual property ("IP") declines to grant a license or declines to grant a license on FRAND terms & conditions. Declining to license IP rights on FRAND terms & conditions can be a breach of the EU's antitrust rules. In 2012 the Commission launched separate Article 102 investigations into Samsung and Motorola in connection with the licensing of their standard essential patents (SEPs) – i.e. patents that are necessarily infringed during the process of implementing an industry standard, and in respect of which the patent holders had previously given commitments to license on FRAND (fair reasonable and non-discriminatory) terms. The Commission's investigations focused on whether the parties had violated Article 102 by seeking injunctive relief on the basis of their SEPs.
FRAND licensing is needed for patented technologies which are essential to the application of a standard. Once a patent is adopted as a standard and achieves commercial acceptance, it becomes 'locked-in'. It is necessary for a manufacturer to use the same; otherwise his product would be incompatible with other companies' products and hence unmarketable. Such a situation strengthens the SEP holder's bargaining power because the licensee does not have alternatives to the same technology. Patent holdup occurs when a SEP holder takes advantage of a locked-in patent by trying to impose unreasonable royalty rates. Unless constrained by a SSO to comply with FRAND licences, the SEP holder can exploit the locked in position to obtain significantly higher royalties than it would have obtained before the patent was incorporated as a standard. However, even after committing to FRAND such a situation arises due to the vague nature of FRAND.
Courts And Patent Litigation
An example of a court rejecting an injunction for an SEP: In October 2011 the Hague District Court rejected Samsung's plea for an injunction stopping Apple from using 4 patents essential to the 3G/UMTS standard in its iPhones and iPads. The court discovered that Samsung was "obliged to give a license to Apple" on FRAND terms& conditions before seeking injunctive relief.
Likewise, in Feb. 2012, the Karlsruhe Higher Regional Court in Mannheim, Germany rejected to grant an injunction that Motorola had requested against Apple's iPhones and iPads on patents essential to wireless standards. The court sustained Apple's compulsory license objection, which the courts have accepted against accusations of infringement of SEPs. These courts rationalized that use of such a patent cannot be banned since market contributors "desiring to comply with the established technical standard" are "forced to use the patent." Since Apple had offered Motorola the necessary suggestion for a license agreement on FRAND terms & conditions.
In comparison, when parties pursue to block competitors on technology that is secured by patents but not essential to the application as a standard, courts are in favor to grant the prayer they seek. Now in this case, since the technology is not essential to the application of a standard the infringement proceedings have a more solid ground.
For example, rivals can work around a "slide-to-unlock" patent by using a different method, such as a "slide-to-unlock" circle or "sliding arc." In February 2012, the Munich court (Inc., 2012-2-17, pp 37-38) in Germany granted an injunction to Apple against Motorola's slide-to-unlock feature and the Munich court granted a second injunction to Apple blocking Motorola's use of products that infringed a patent on the feature of the Android photo gallery that protects the turning of pages in zoomed-in mode.
Finally, the Mannheim court granted Motorola injunctive relief that required the deactivation of Apple's "push" e-mail notification service, which (like the BlackBerry device) automatically alerted users to new e-mails. Apple was able to avoid Motorola's patent with a "pull" technology that allowed users to check for e-mails on demand.
Frand Licensing Litigation In India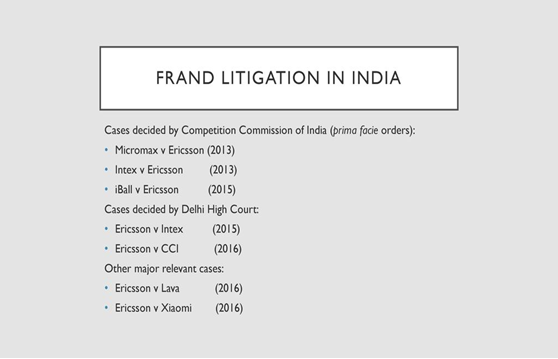 Recent developments show that the smartphone industry is perhaps the most affected by the whims of the SSO-SEP-FRAND. In 2013 Ericsson filed a lawsuit against Micromax India's mobile phone manufacturers seeking damages and an ex-parte permanent injunction against Micromax regarding products infringing its SEPs relating to 2G, 3G and 4G tech.
The Delhi High Court[1] in its decision led Micromax to pay a royalty amounting to 1% of the selling price of its products to Ericsson for exploiting the patented technologies of the Swedish equipment maker that were essential to manufacture the products.
Gradually it is now becoming a challenge to keep track of the several lawsuits and decisions regarding the smartphone patents. Courts generally granted permanent injunctions to patent owners whose patents were found to be valid and infringed. However, following the Supreme Court's decision in eBay v. MercExchange (L.L.C., 547 U.S. 388 (2006), injunctions for patent infringement are no longer virtually automatic, and district courts must apply a test based on four traditional criteria. A plaintiff seeking an injunction is required to show proof of irreparable harm, the inadequacy of money damages, that the remedy is warranted after considering the balance of hardships between the parties, and that the public interest would not be disserved by an injunction
Conclusion
The smartphone patent wars present a maze of lawsuits and countersuits across continents. The assurance of FRAND licensing for some of the most important patents i.e the SEPs— plays a vital role in decreasing the possibility of injunctions that can remove products from the market.
But in some events, companies have sought injunctions even though they had assured the licensing of their SEPs on reasonable terms. In other cases, patentees have challenged competitors' usage of non-SEPs that do not lead to blocking of the product from the market but could lead to less desirable workarounds. Nonetheless, the deluge of lawsuits and potential antitrust violations demands careful attention in a patent war that shows no sign of abating anytime soon.
Author: Lakshay Kewalramani, Intern at Khurana & Khurana, Advocates and IP Attorneys. In case of any queries please contact/write back to us at[email protected].
References:
[1]FAO(OS) (COMM) 169/2017 & CM No.40001/2017
[2] https://www.fieldfisher.com/publications/2013/08/what-is-frand
[3] Dept. of Justice, Statement of the Department of Justice's Antitrust Division on Its Decision to Close Its Investigations of Google Inc.'s Acquisition of Motorola Mobility Holdings Inc. and the Acquisitions of Certain Patents by Apple Inc., Microsoft Corp., and Research in Motion Ltd., at 3 http://www.justice.gov/opa/pr/2012/February/12-at-210.html [DOJ letter].
[4]https://www.bananaip.com/ip-news-center/standard-essential-patents-frand-licensing-in-india/
[5]https://www.essentialpatentblog.com/tag/frand/
[6]https://www.lexology.com/library/detail.aspx?g=c492566e-b83e-4c57-89ba-febf1571add0