Amazon improves foothold in India: signs content licensing deal with T-series
E-commerce is growing widespread day by day in Indian market. It has become a current day reality from a buzzword, transformed the way business is done, transformed the way people transact and more specifically, has totally transformed the game for the Indian economy. Nowadays online market space is available for almost everything; you just think of something in your mind and can easily get without leaving your place. It has covered almost everything: tours, travels, entertainment, movies, hotel reservation, matrimonial services, recruitment services, banking services, electronic gadgets, fashion accessories, medicines, medical devices, groceries and the list goes on.
Indian retail sector has taken a great leap due to the growing popularity of e-commerce. Offering attractive and convenient shopping option has widened owing to acceptance and preference of only online shopping as a safe shopping medium. In more simple words it is now possible doing shopping for anything from anywhere at any time with online market space, that too, with ease of your own comfort and leisure. Be it your workstation or home or wherever, you can shop for the anything you want without even worrying about the closure or opening time of the market, and within the prescribed time period you will receive in your hands. Rising Internet access, increasing usage of smartphones and the preference of cashless transaction, being integral players, have facilitated e-commerce to propagate and flourish in each and every part of our country.
Growth and success emanates competition, which is getting intensified with major online retail players day by day. Over a year ago, Snapdeal and Flipkart were the two major players, and then Amazon India has overtaken Snapdeal's market. Two horse race between Flipkart and Snapdeal, has now transformed in to two horse race again, but, between Flipkart and Amazon, replacing Snapdeal.
Reportedly, Snapdeal's market share dropped to 14% from 19% a year ago while Amazon's gained from 14% to 24% in the same period and Flipkart remains the leader despite a fall in market share to 37% from 43%.: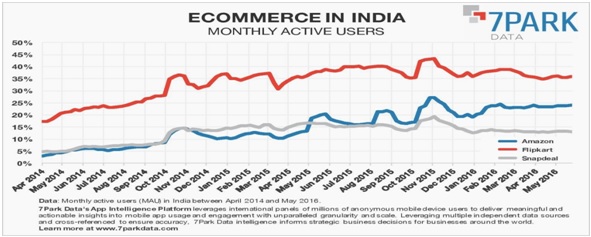 Flipkart and Amazon are struggling high to win in the game of capturing Indian market share and to sustain that position.Both companies are developing various plans and strategies, like offering best discounted deals, announcing financial investments, acquiring major players in retail sectors, joining hands with big brands and signing licensing deal and agreements to have the batter coverage of the market. In the verge of the same Amazon has signed a long term content licensing deal with T-Series for its prime video services, which has not been launched yet, for pleasing the commitment of providing value added services to members . As a result of this deal, Amazon prime members would be able to enjoy the best of the Bollywood movies by T-Series within a few weeks of their theatrical release.Seventeen under production films by T-Series, which include Raabta, Chef, Tum Bin 2, Wajah Tum Hoetc. will be showcased to the members of prime video before their premier on TV. Previously Amazon has also signed almost similar type of pacts with Dharma Production, Vishesh Films and Excel Entertainment. Amazon is trying their level best to win their customers/members whole heartedly, fulfilling all of their need and interest. Indeed, Amazon is continuously improving its foothold in the Indian market to grab the position of leader in e-retail sector
But as we have seen historically, in internet business sector, there often remains single dominant leader like Facebook and Google in social networks and search engines respectively. Whereas, here it looks like oligopoly with two strong competitors Flipkart and Amazon; one is of home origin and another of American origin.
Battle is going on. Let's wait and watch, who will takes all market? And we as customer enjoy their favours and offers.
About the Author: Dr. Komal Tomar, Sr. Licensing Associate at IIPRD and Khurana & Khurana, Advocates and IP Attorneys and can be reached at: [email protected]
References:
http://economictimes.indiatimes.com/small-biz/startups/snapdeal-slips-against-its-two-main-rivals-flipkart-amazon-can-it-get-its-mojo-back/articleshow/54705032.cms
http://economictimes.indiatimes.com/tech/internet/amazon-inks-content-licensing-deal-with-t-series/articleshow/54566544.cms
http://tech.economictimes.indiatimes.com/news/internet/amazon-signs-up-dharma-productions-for-prime-video-push/54524365
http://economictimes.indiatimes.com/small-biz/startups/amazon-signs-content-deal-with-vishesh-films/articleshow/54398306.cms
http://economictimes.indiatimes.com/industry/media/entertainment/amazon-signs-up-excel-entertainment-to-ensure-enough-takers-for-prime-service-in-india/articleshow/53548913.cms