Japanese Toymakers Enhance Efforts to Battle Counterfeits
Toymakers in Japan are taking strong measures against counterfeit products being sold overseas, especially in China.
As International sales are increasing, firms are alarmed because of increasing chances of production and sale of counterfeit product leading to huge losses to these firms. Such counterfeit products not only create confusion among consumers, but also damages the reputation of brand.
Bandai Spirits Co. estimated an annual loss of revenue of over ¥3 billion in China due to counterfeited products. Mr. Masaru Kawaguchi (President Bandai Spirits) said they are collaborating with Chinese Government to investigate and find the counterfeit products. but it has been a cat-and-mouse game with highly skilled makers emerging one after another.
Counterfeit is everywhere – it is strongly affecting what we eat, watch we wear and even what medicines we are taking. It's not just restricted to purses, DVDs, and sports team products. Counterfeit encircles cosmetics, body care products like shampoo, conditioner, soap and toothpaste, perfume, clothing, footwear, purses, luggage, auto parts, food and beverage items, medicine, baby formula and many more. These counterfeit products are the biggest factor of unfair competitors which lead to misuse of Intellectual Property rights.
As an adverse effect of Counterfeit incidents, various corporate are disappointed and discouraged to make any investments in the market.
Researchers predict that counterfeit as well as unemployment will continue to grow in the coming decades throughout the world. Under these circumstances, it has become necessary for Japanese companies to take measures against counterfeiting both in the global market and at the domestic border.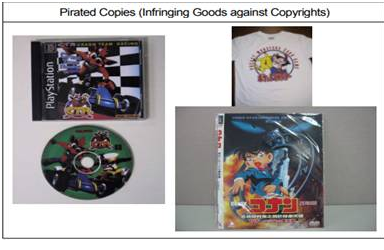 Companies hire researchers to check duplicate goods
Counterfeit products are easily available in market and it is very difficult for the end user to recognize the original or duplicate goods. A cyber security survey conducted in Japan found that around 20,000 fake shopping sites were in operation, selling duplicate products without any fear.
Typically, victims are led to the fake sites through search engine by simply clicking on a hyperlink that includes an attractive phrase, such as "brand wristwatch, high quality". Frequent instances of such nature has forced the companies to hire researchers who can keep check on fake products.
Tomy Co., which is engaged in selling toys in 70 odd countries have hired Chinese Research Company to regularly keep a check on online distribution and any act of duplicate products being sold. The company has planned to strengthen efforts to address piracy.
Anti-Counterfeit measures
We can't protect consumers or eliminate counterfeit goods unless we take preventative measures.
As Corporate can take limited action against counterfeit products thus, the need of government action is required to control and avoid counterfeit. Moreover, It is important to promote training for customs officials across Asia in order to help them detect fake products.
Customs can stop imported infringing products. If Customs determines any infringing goods, they may remove, destroy or also can order the importer to reship them. Thereby suspending the entry of counterfeit goods into Japan.
Further, increasing public awareness about counterfeit instances shall also help in mitigate the losses suffered due to counterfeit activity and may also fight with counterfeiters as well.
In the end, by looking at the growing incidents of counterfeit, it is observed that it is not a subject that can be fought against by a single body. A strong action by Government as well as a group action by each individual is felt in order to deal with increasing menace of counterfeit incident.
Author: Ms. Deepika Sharma, Sr. Patent Associate at Khurana & Khurana, Advocates and IP Attorneys. In case of any queries please contact/write back to us at [email protected].
Reference:
[1] https://apparelmag.com/measures-taken-against-counterfeit-and-pirated-goods-japanese-customs