With the advent of the era of communication technology, mobile devices, portable device and other communications products has been very widely deep into people's lives. As communication technology continues to improve, mobile phones and other intelligent terminal becoming increasingly predominant in society. With the rapid development of mobile communications smartphone can be used for longer calls, send text messages, but also manage address book, surf on the Internet, shopping cart, watch videos, navigate to find a way and to handle personal business. Thus mobile becomes inseparable part of people's lives.
As the capabilities of these smartphone and communication products have evolved, so too have their user interfaces. As technology evolved, touchscreen technology came into existence in portable device which enables the user to interact directly with display, instead of using mouse, touchpad or any other such device (stylus is optional for most modern touchscreen). Touch screen technology includes sensors for detecting the presence of an object such as finger or stylus. Many touchscreen of smartphones can be manufactured from glass or plastic which is susceptible to deformation such as scratch, breakage, damage, or bending in case of smartphone accidents such as dropped or thrown. Once the display is damaged, the smartphone is often considered as useless to the user. Therefore there is a need of robust portable device.
In recent times market will be hit by a newer technology such as self-repairing display technology. In the self- repairing display can be manufactured with "shape memory polymer materials" or "Smart Glass". Shape-memory polymers are polymeric smart materials that have the ability to return from a deformed state (temporary shape) to their original (permanent) shape induced by an external stimulus (trigger), such as temperature change. In the self-repairing technology different trigger such as heat from phone or user body temperature can be applied as a result to a stimulus. The self-repairing technology basically detects damage/breakage on its display by inbuilt damage detection device and notifies the user. The user can then taps the damaged area by using the fingertip, while heat from one or more thermal elements which is disposed adjacent to display of the phone can be applied to the shape memory polymer of the display in order to repair the damage. The display can be LCD or LED displays with a capacitive touch sensor layered in, as well to sense or detect the position of fingerprint.
Motorola has come up with idea of self –healing display while thinking about a day where smartphones can heal their own damages. Motorola has recently filed a Patent application at USPTO (US20170228094A1) for a self-healing display that heals if it is cracked. Patent application talks about an electronic device which includes a fascia manufactured from a shape memory polymer and one or more thermal elements which can be disposed adjacent to the fascia. The thermal elements can apply heat to the shape memory polymer along the fascia to repair the damage after detection of damage.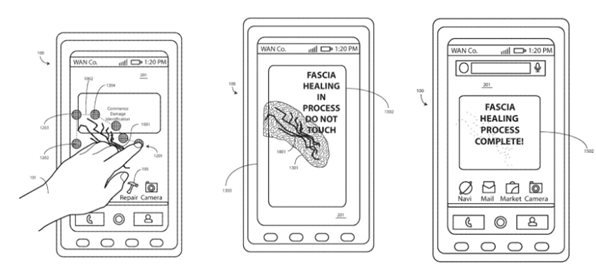 Exemplary figures that represent working of self-healing display taken from USPTO.
ABOUT THE AUTHOR:
Shubhangi Dhakane, Patent Associate at Khurana & Khurana, Advocates and IP Attorneys who can be reached at [email protected]