Digital Piracy & Copyright Infringement
Introduction
With the growth of the internet and technology progressing rapidly, more and more people are consuming content online. The issue is worse in India because many individuals refuse or are unable to pay the required amount of money for original content. With all of this rise in demand comes an increase in piracy, and as broadband speeds improve and become more affordable, businesses in the entertainment industry are seeing more content pirated and illegally accessed online.
[Image Source: Shutterstock]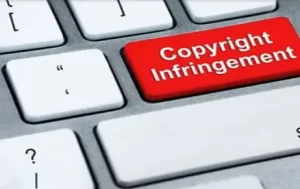 Copyright is the exclusive right that the owner of intellectual property has. This grants the owner the sole right to reproduce the work and safeguards the creator's work against unauthorized duplication or use.
Piracy is defined as the unauthorised use of someone else's work. Piracy in its literal and conceptual sense termed as "the unauthorised use of another's production, invention, or conception, especially in the infringement of copyright." Unauthorized reproduction of another person's creation is a violation of his copyright. Piracy has grown in popularity in parallel with technological advancements. Piracy is most prevalent in the film industry. Pirated content is frequently downloaded from various illegal websites. Downloading or uploading any copyrighted materials from these websites, whether it's a simple video, song, or movie, constitutes a violation of the owner's copyright.
Forms Of Digital Piracy
There are multiple websites that provide unauthorized access to copyrighted content such as films, music, television, games, and software.
I. Streaming sites
Illegal streaming enables you to watch unlawful copyrighted content on demand without having to download the illegal file. Websites may stream content directly or link to content streamed live on other websites. It is illegal to host unauthorized content and to provide links to unauthorized content.
II. Cyber-lockers
A cyberlocker is a third-party online service that provides file-storing and file-sharing services which enable Internet users to easily and freely download and upload content from their hard drive to the one-click host's server, and vice versa. There are countless Internet forums where such links can be shared. One of the example of the same is "Megaupload.com" which provide such a hosting services, which was shut down in 2012 due to copyright infringements.
III. Peer to Peer (P2P)
P2P networks connect and link computers together with the intention of exchanging files or data. The content may be legal, but these transfers may be used to distribute pirated content to network users. With an adequately large number of users in this network, any P2P-user can quickly find and rapidly download the content that he wishes, as the combined network of computers provide access to large amount of digital resources. These networks encourages users to be both digital content consumers and suppliers.
IV. Torrent sites
group upload and share of content on private torrent sites which are usually funded by donations of the user. The material makes its way to public through search engines such as "Pirate Bay" which provides the link to torrent uploads.
WHY HAS DIGITAL PRAICY BECOME MAJOR ISSUE?
Here are a few of the reasons why digital piracy is becoming such a major issue:
• Convenient and widespread distribution through the internet.
• No restrictions on the number of people to whom a content can be distributed.
• Difficult to identify original and counterfeit copies.
• Almost no cost is involved in illegal distribution.
• Free access to copyrighted content without fear of being raced down.
LEGAL SCENARIO IN INDIA
The Copyright Act of 1957 is the primary piece of legislation for protecting intellectual property from piracy. However, the measures taken against online copyright infringement were inadequate, Due to rapid advancement in technology. As a result, the copyright act was amended in 2012 which includes different forms of digital piracy under its purview. Sections which intent to prevent people to use or upload pirated content on internet are:
Section 65A. of The Copyright Act, 1957 meant for "Protection of technological measure" and is key to curb digital piracy. The section states that "any person who circumvents an effective technological measure applied to protect any of the rights conferred by this Act, to infringe such rights, shall be punishable with imprisonment which may extend to two years and shall also be liable to fine."
Another piece of legislation that deals with digital piracy is the Information Technology Act, 2000. Section 66 of the Information Technology Act provides for punishment with up to 3 years of imprisonment and fines up to Rs 2 lacs for illegal online distribution of copyrighted content.
CONCLUSION
There are various challenges with India's online copyright infringement laws. The challenge is made all the more difficult by the rapid advancement of new technology. India is no stranger to cases of digital piracy. The film 'Udta Punjab' could be an excellent illustration of digital piracy. The film was leaked online before its official release date. The perpetrator was a 25-year-old Mumbai resident who was charged under the Information Technology Act. Another significant case occurred in Kerala in 2012. In this case, the Kerala anti-piracy cell traced the IP addresses of over a thousand people in Kerala who were engaged in the illegal uploading and downloading of the movie "bachelor party."
However, the government is taking the necessary steps to keep these grave issues under control. With education, policies, and a few precautionary measures, piracy and online copyright infringement can be curtailed. It is also critical to be aware of the various piracy laws in different countries, As when it comes to the Indian current legal framework related to digital piracy is undeniably inadequate. However, awareness, along with a few new policies, could help tackle the growing threat of online copyright infringement.
Author: Mudit Gupta is a 4th Year student of University of Petroleum & Energy studies and Pursuing BBA LLB(Hons). in case of any queries please contact/write back to us via email to [email protected] or at IIPRD.