Draft Patent Amendment Rules 2019
The Department for Promotion of Industry and Internal Trade, Ministry of Commerce and Industry has proposed draft rules to amend Patent Rules 2003. Section 159 of the Indian Patent Act, 1970 empowers the government to do the same. The suggested amendments are published in a draft form as required by the sub-section (3) of section 159. To alleviate the discomfort likely to be caused to a section of people, a notice is issued which details the draft rules in entirety. And the rules be considered after expiry of a period of 30 days from the date on which copies of the Gazette of India, in which this notification is published, are made available to the public.
The amendments in the said rules has mainly been proposed in respect of provisions related to submission of priority document and its English translation and submission of Annual working report. The proposed rules aim to provide a better implementation of the existing rules and to provide clarity over the respective timelines.
Draft Rules 2019 suggestions are as follows:
1) Suggested amendments to Rule 21(2) and (3) of Patent Rules 2003:
For Rule 21(2): For applications, where the priority document is not in English, the deadline for filing the verified English translation is three months from the invitation of the Examiner while the time-line for filing the certified copy of the priority document is 31 months from the priority date under Rule 20(4) of the Indian Patent Rules, 2003.
For Rule 21(3): There are no extensions provided for filing the above-mentioned documents and non-compliance of the timelines shall lead to disregard of the priority.
2) Amendments with regard to submission of Annual Working Statements – Rule 131(2):
The rule says that the statement be furnished once every calendar year, beginning from the year immediately after the calendar year in which the patent was granted, and to be furnished by March 31st of the next calendar year thereby clearing off all the ambiguity that existed with regard to timelines in Rule 131(2) of Patent Rules 2003 and Section 146(2) of Patent Act, 1970 respectively.
3) Amendments to Form 27- working of patented invention in India on a commercial scale:
The proposed form of Form-27 provides separate columns to give specific information regarding working of the patent which is -state the calendar year, worked/not worked, if worked then details thereof, if not worked then details with justification. Form 27 now delineates a separate column for submission of information related to process patents which was missing in the previousform of Form 27.For an easier comparison of the differences between the previous Form 27 and the one with suggestions, their images are hereby provided with: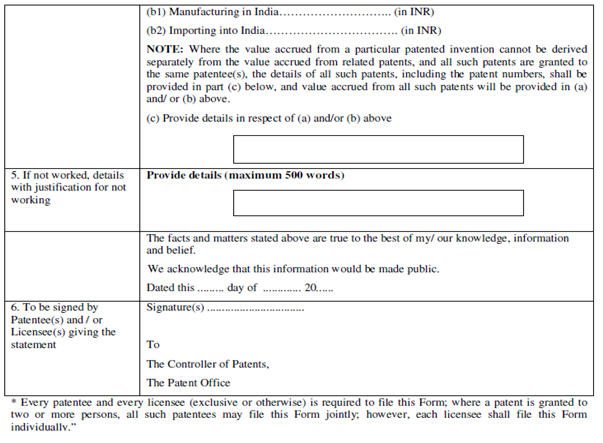 Author: Dhakshina Moorthy C, Associate Director and Rajasri Thota, intern at Khurana & Khurana, Advocates and IP Attorneys. In case of any queries please contact/write back to us at [email protected].