Medical Device for Enhanced Blood Circulatory Perfusion
This is a disruptive bio mechanical device platform that increases both deep vein circulation and micro vascular circulatory perfusion by delivering cyclic pressure to veins in the foot, essentially significantly enhancing blood circulation in the legs and feet. The technology has significant clinical applications including diabetic neuropathy, edema and ulcers; peripheral artery disease; chronic venous insufficiency; lymphedema; venous thromboembolism; and other leg and foot conditions resulting from circulatory issues.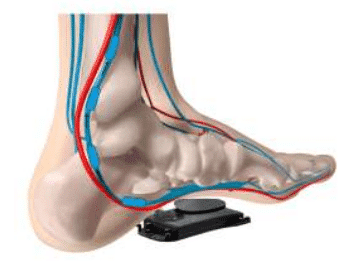 Being a platform technology, this could be applied in multiple forms such as a specialised foot or leg massager or even as an insole in a shoe. The technology can address issues such as Diabetes, Lymphedema, DVT, VTE, and Sports Recovery proven in both the market and clinical testing. The bio-medical device is portable, can treat patients anywhere (clinic or home), can be contained in an insole, and results in no side effects.
The Patentee has successfully completed and published five, third-party conducted and peer-reviewed clinical studies evaluating blood flow and health improvement from using this medical device. These tests confirmed the technology as an effective option for treating diabetic foot complications (reducing neuropathy 15%; improving gait & balance up to 32%), enhancing lower extremity circulation, improving recovery time, and preventing VTE.
The Patentee is currently looking for sale/ license of the instant technology preferably a strategic partner, with both brand and distribution channels which will enable its platform technology to be fully commercialized.
For further information about the technology you can refer to:https://www.iiprd.com/wp-content/uploads/2020/05/Medical-Device-for-Enhanced-Blood-Circulatory-Perfusion-Acquisition-Opportunity.pdf