Secretion Clearing Endotracheal Tube System (Pacey ClearVent Tube)
The Patentee is currently looking for sale/ license of this technology that pertains to secretion clearing endotracheal tube system for inadequate ventilation perfusion during critical care. This technology/ system is superior to the current methods because it is the only system/ technology which continuously clears endotracheal secretions and improves oxygenation during ventilation in patients. The benefits include a reduction in infections,less dependency on the Respiratory Care Team thereby reducing nursing time and resources, and reduced medical care costs.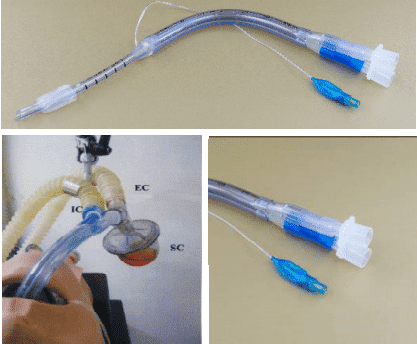 The device is designed with two distinct channels; Inspiration Channel (IC) is for passage of clean O2 enrichment air and moisture, and the Expiration Channel (EC) is for removal of CO2 enriched air and secretions in the exhaust gases collected in the Secretion Collector (SC). The two channels combine at a junction into a conventional endotracheal tube which is shorter for reduced CO2 pushed back into the lung in each cycle. The junction is placed behind the tongue.The tube then passes through the vocal cords and uses a conventional cuff to provide a seal in the trachea.
This has been invented by Dr. John Pacey (Vascular and General Surgeon) who is also the inventor of GlideScope. The Patentee is looking to collaborate with someone to enable its technology to be fully commercialized. The device has been extensively tested and is ready for peer reviewed studies in ICU & OR and is proven with Biotek Ventilator Tester paired with a Puritan Bennett 7200 ventilator. This has also been successfully tested on adult pigs at the Jack Bell Research Center at Vancouver General Hospitalin Canada.
For further information about the technology you can refer to:https://www.iiprd.com/wp-content/uploads/2020/05/Pacey-Secretion-Clearing-System-Acquisition-Opportunity.pdf